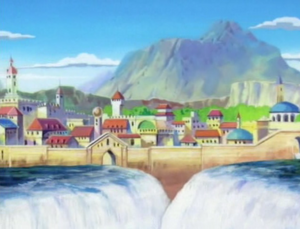 Aurora
is a metropolis built on a delta at the edge of a large waterfall, and is the city that the main character lives in in
Monster Rancher Battle Card
. The houses are mostly white stucco with red clay tile roofs. This is probably the city that
Genki
imagines at the beginning of the
anime series
, and is also most likely where
the Searchers
meet
Hare
in a monster battle.
Aurora is the largest city on Aurora Island, and is within easy traveling distance of the Tagi Jungle, Black Mountains, and Mandy Desert. The waterfall that the city rests on drops off into Heaven's Canyon.
Ad blocker interference detected!
Wikia is a free-to-use site that makes money from advertising. We have a modified experience for viewers using ad blockers

Wikia is not accessible if you've made further modifications. Remove the custom ad blocker rule(s) and the page will load as expected.