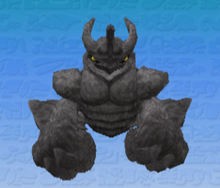 Beerock / Bealock / Rocklon

A beetle monster that is made completely of stone. Originally, it had a more boxy shape to it, but when it was redesigned for Monster Rancher 3, it took on a buffalo-like physique and was classified with a ??? sub-type. In Monster Rancher 4, it went through even more redesigning, turning its large horn into a huge cone and giving it sleeker, sharper edges.
Etymology
Edit
Its name is a combination of the words beetle and bedrock. The name Bealock is a mistranslation of the later name Beerock.

| Game | Name | Description | Image |
| --- | --- | --- | --- |
| Monster Rancher 2 | Rocklon | "Its rocky body may be hollow inside because it can fly." | |
| Monster Rancher 3 | Bealock | "It is a strong warrior, but it has one weak point: it cannot swim because its body is made of stone." | |
| Monster Rancher 4 | Beerock | "Also known as "Heavy Stone," some weigh over a ton. Its best attacks make use of its keen body and massive heft. It can be docile though, and is easy to train." | |
| Monster Rancher EVO | Beerock | | |
| Monster Farm DS | Beerock | | |
| Monster Rancher DS | Beerock | "Also known as the "heavy stone," as some can reach a weight of more than 1 ton. It attacks best with its jagged body and weight, and is surprisingly an obedient, easy-to-raise monster." | |
| My Monster Rancher | Beerock | "Characterized by the small horns on either side of its head and its two large horns made of rocks. Despite the stern appearance, its nature is gentle and peaceful." | |
Obtaining
Edit
To obtain a Rocklon in Monster Rancher 2, use
To obtain a Bealock in Monster Rancher 3, use
To obtain a Beerock in Monster Rancher 4, use
To obtain a Beerock in Monster Rancher EVO, use
To obtain a Beerock in Monster Farm DS, use
To obtain a Beerock in Monster Rancher DS, use
To obtain a Beerock in My Monster Rancher, use