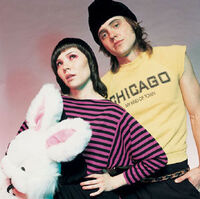 "We have spent a lot of time in our lives playing video games," Cooler Kid Kaz Gamble said. "Though we have been happy to be a part of films and shows such as 'Lizzie McGuire', 'The O.C.' and many others, the opportunity to create original music for a series such as 'Monster Rancher' made us so excited that we couldn't sleep the whole week! We had a blast working on the songs because the playful energy of the game really works well with our up-tempo beats and sweet lyrics."
—Business Wire
Ad blocker interference detected!
Wikia is a free-to-use site that makes money from advertising. We have a modified experience for viewers using ad blockers

Wikia is not accessible if you've made further modifications. Remove the custom ad blocker rule(s) and the page will load as expected.