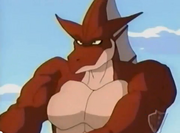 This is about the anime character. For the monster itself, see Dragoon (Centaur) and for other uses of the name Dragoon, click HERE.
There are two types of monsters named Dragoon in the Monster Rancher universe, but the one who appears in the anime series is a reptillian warrior who lives in the ruins of the city of Alta Vista, along with his friends Centaur and Celious.
Together the three Centaurs guard the Fountain of Warriors, but when Gray Wolf defeats Centaur in a battle, Dragoon believes that he is bound by honor to stay and support his friend. Out of the three of them, Dragoon seems the most impulsive and ferocious, and when Centaur decides to challenge the Searchers to a battle, he takes pleasure in fighting Suezo. He loses, however, after tripping and falling out of the ring.
The fights are interrupted by the Salamander troops, who burst into the coliseum to try to capture the Searchers themselves. Eventually, Dragoon and his companions change back over to the good side, and are seen fighting Moo's troops while the Phoenix is resurrected.
Ad blocker interference detected!
Wikia is a free-to-use site that makes money from advertising. We have a modified experience for viewers using ad blockers

Wikia is not accessible if you've made further modifications. Remove the custom ad blocker rule(s) and the page will load as expected.