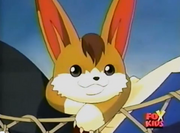 This is about the anime character. For the monster itself, see Eared Mew.
In the anime series, a sailor named Jim owns an Eared Mew.
The duo help the Searchers across the Yellow River despite the Arrowheads' efforts to sink them, and can later be seen fighting the Baddies when they learn of Moo's impending destruction.
Ad blocker interference detected!
Wikia is a free-to-use site that makes money from advertising. We have a modified experience for viewers using ad blockers

Wikia is not accessible if you've made further modifications. Remove the custom ad blocker rule(s) and the page will load as expected.