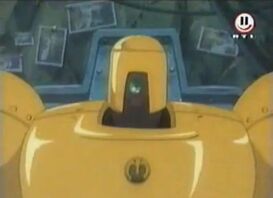 This is about the anime character. For the monster itself, see Gobi.
Gobi is a dimwitted robot who works for Durahan in Season 3 of the anime series, often seen in the company of Mum Mew. He usually acts as the muscle of the pair, and is not very intelligent. This characteristic is present to such a degree that any attempt at deep thinking results in violent headaches.
Gobi enjoys making friends, and he is shown taking pictures of himself with the warriors that Durahan awakens, and weeping when they leave.
Techniques
Edit
Twin Slap
Spinning Attack
Rock Assault
Ad blocker interference detected!
Wikia is a free-to-use site that makes money from advertising. We have a modified experience for viewers using ad blockers

Wikia is not accessible if you've made further modifications. Remove the custom ad blocker rule(s) and the page will load as expected.