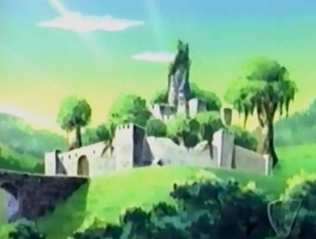 In
Episode 3
of the
anime series
,
the Searchers
come across the ruins of an English-looking
fortress
, complete with courtyard and stone archways. The courtyard is full of
lost discs
, and they find a
Golem
guarding the place. He was sworn as its protector by the king from not too long ago, after a battle took place there against
Moo's
forces.
It is probable that the battle that Holly tells Genki about in Episode 1 of the series (in which a human king tried to fight back against Moo's takeover) took place at this fortress. It is unknown who the king was, since he obviously didn't survive.
The fortress now rests somewhere in the Morx Forest.
Gallery
Ad blocker interference detected!
Wikia is a free-to-use site that makes money from advertising. We have a modified experience for viewers using ad blockers

Wikia is not accessible if you've made further modifications. Remove the custom ad blocker rule(s) and the page will load as expected.