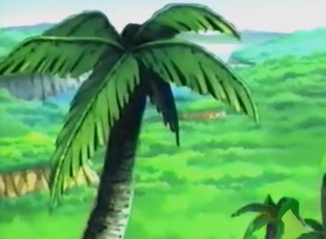 The
Kalaragi Rainforest
is a swampy jungle that was famous in ancient times for the
Ubagi Waterfall
. A cliff path led behind the waterfall up to a ledge where a giant lillypad grew.
Crocodiles
and
Hippopotamus
inhabited the waters, and the boss of the area was an
ApeLord
. It is one of the training locations from
Monster Rancher 3
and one of the places you can explore in
Monster Rancher 4
and
Monster Rancher DS
in the
FIMBA
region. Before the continental divide it was so vast that most researchers now believe almost all of the present-day jungles on the continents were once a part of it. The part of the rainforest that contained the most ruins ended up on the peninsula of the
Northern Continent
, and retained the name.
In Monster Rancher 4 Mr. Karnab comes to you for help once you reach B Class about a FIMBA exploration team that went missing in the jungle, and asks you to go in search of them.
The Kalaragi Rainforest is also mentioned in Episode 30 of the anime series as the swamp/jungle in which the Searchers meet the Apes and Rock Apes. There is a hidden temple shrine there where the Apes unlock a new Bossy to lead them when their old leader dies.
In Monster Rancher 4, Phayne reads this about the Kalaragi Rainforest in the library:
NOTE: There is a bug in the gameplay at Kalaragi in MR3. If you lose to Gadamon, Sansha will direct you to a place near the "lord" monster. If you search the area, Fleria will direct you to another spot, and the storyline will halt.
The two most well-known jungles in the world are the Kalaragi and Parepare jungles. In recent years, the discovery of numerous artifacts of an ancient culture in Kalaragi has surprised academics. However, these investigations have been monopolized by FIMBA, creating a stir among competing organizations.
-"Modern Jungles," MR4