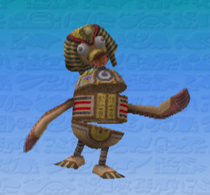 King-Tut Duck / Karakarakkung / Shitankaakung

An ancient relic made of some sort of pottery thought to be brought to life by the spirit of a dead king. It had an unknown sub-type when it first appeared in Monster Rancher 3, where monsters are categorized by where they live. Karakarakkungs live in the desert area known as Takrama. It later got a makeover in Monster Rancher 4 and became more inscribed. In Monster Farm DS, it was finally revealed to be related to Falco.
Etymology
Edit
Tutankhaten (or King Tut as he is colloquially known) was one of the most famous Egyptian pharaohs. His mummy's mask is a famous relic, made of gold and painted with all sorts of glyphs, much like this monster is.

| Game | Name | Description | Image |
| --- | --- | --- | --- |
| Monster Rancher 3 | Karakarakkung (Takrama) | "For some reason, the Karakarakkung is afraid of triangles. When it sees one, it starts meditating. I wonder why?" | |
| Monster Rancher 4 | KingTutDuck (???) | "This monster was born when the soul of an ancient mummy entered a Ducken by mistake. It can fetch a high price so archaeologists love it. It hates water and people." | |
| Monster Farm DS | Shitankaakung (Falco) | | |
| Monster Rancher DS | KingTutDuck (Falco) | "They say the soul of an ancient mummy accidentally entered a Ducken's body. It was quite famous when everyone was excited about the ruins. King-Tut Ducks hate people and water." | |
| My Monster Rancher | King-Tut Duck (Falco) | "Its whole body is covered in patterns from an ancient civilization. Because of its weight, it can easily jump up and quickly survey its surroundings from the air." | |
Obtaining
Edit
To obtain a Karakarakkung in Monster Rancher 3, use the PS2 game Ace Combat 04.
To obtain a KingTutDuck in Monster Rancher 4, obtain a Rainbow Disc on an Adventure after completing the game.
To obtain a Shitankaakung in Monster Farm DS, use
To obtain a King Tut Duck in Monster Rancher DS, combine a Ducken (main) and a Falco (sub).
To obtain a King-Tut Duck in My Monster Rancher, use
Ad blocker interference detected!
Wikia is a free-to-use site that makes money from advertising. We have a modified experience for viewers using ad blockers

Wikia is not accessible if you've made further modifications. Remove the custom ad blocker rule(s) and the page will load as expected.