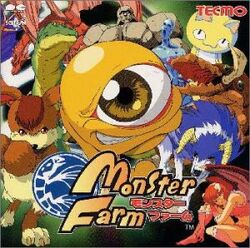 Monster Farm 4 Soundtrack is a CD of tracks from Monster Farm. It was released on December 17, 1997 and was published by Pony Canyon.
Track Listing
Edit
Record of breeders there is one.
's Grow to fill 2.
Letter of 3. One copy
Best of wisdom prestigious 4. History
Let's get out to 5. Town
Stone dwells 6. Life
Summer, at their best
Hey I'm pleasant season 8.
Season of ice and 9. Snow
Let Hatarako blowing 10. Whistle
It was absent 11.? Did you bother?
Good luck 12. A month To listen
Those who were bereaved 13.
Hospitalized
I'm 15. Very ...
Requiem
Wrapped in 17. Light
It is this competition 18. Upcoming!
To 19. Been, come hard To listen
Fanfare of one 20. Trumpet
Fanfare 21. Trumpet two
Fanfare 22. Trombone with
Gorgeous little 23. Fanfare
A 24. Gorgeous fanfare To listen
Fanfare of stage 25. Last
Bull Run 26. Started
Aim 27., Further on
Results of 28. Training
Is there a sophistication to be 29. Invitation?
Extremity of power and 30. Technique can be seen
To the end of 31. Extremity
You can brush up on the skills of 32. Himself
I ended up losing § Oh 33.
I won 34.!
Amazing 35., Wow!
Is 36. Awards ceremony
What popularity of this child 37. Wonder if happened?
I am happy with the popularity of usual 38.
It let's do our best to following this 39.
'll Praise 40.?
You too expert in 41. This
Song of the 42. Birthday beauty (Toa rust)
Ad blocker interference detected!
Wikia is a free-to-use site that makes money from advertising. We have a modified experience for viewers using ad blockers

Wikia is not accessible if you've made further modifications. Remove the custom ad blocker rule(s) and the page will load as expected.