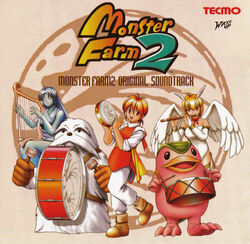 Monster Farm 2 Soundtrack is a CD of tracks from Monster Farm 2. It was released on July 27, 2000 and was published by Daiki.
Track Listing
Edit
Opening ~ adventure (Arrange Version)
Title of 2. Illusion (Unused Music)
IMa
Monster birth
Park
Farm spring
Farm summer
Farm fall
Farm winter
Training
Recreation
Training
Birthday
Play description
Play
Hospitalization escape
Mortality
Requiem
Adventure
Battle information
Usually opening tournament
The four major tournament opening
2 continent tournament opening
Fanfare motivated a little 24.
Fanfare motivated more 25.
Fanfare motivated and 26.
Fanfare 27. Fittingly! Motivated
Fanfare motivated Poor 28.
Fanfare very motivated 29.
Fanfare 30. Quite motivated
Fanfare motivated to 31. Showy
Official game (Grade D · E)
Selected war
Official game (Grade B · C)
2 continent tournament
Indiscriminate class war
Official game (Grade S · A)
The four major tournament
Winning Jingle
Defeat jingle
1 in 41 awards. Victory jingle ~
2 in the following awards
Ending ~ Staff Roll Hall of Fame ~
Monster Rancher series Medley
Ad blocker interference detected!
Wikia is a free-to-use site that makes money from advertising. We have a modified experience for viewers using ad blockers

Wikia is not accessible if you've made further modifications. Remove the custom ad blocker rule(s) and the page will load as expected.