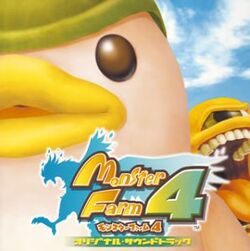 Monster Farm 4 Soundtrack is a CD of tracks from Monster Farm 4. It was released on Oct 01, 2003 and was published by Piccolo Town.
Track Listing
Edit
4U ~Hitasura~ (4U~ひたすら~; 4U ~Earnestly~) - Ichii Sayaka
Monster Rancher 4
Theme 2 of 3. Fan
Birth
Farm spring
Theme 6. Tee Tee
Theme 1 of 7. Fan
Theme 8. Rio
To~uguru
Convention site
Tournament Battle 1
Victory
Farm summer
Weekends and 1
Cave 15. To~uguru
Adventure Battle 1
Adventure Battle 2
Ryun
Kara Laghi Jungle
Aloof
Toburu
Tournament Battle 2
Tournament end
Secret
Farm fall
Puromiasu ruins
Vu~izuri
Farm winter
Weekends and 2
Tournament Battle 3
Tears
Kaurea volcano
Harbinger
Boss Battle
Bukiyou na Tenshi (不器用な天使; Clumsy Angel) - Ichii Sayaka
External Links
Edit
Ad blocker interference detected!
Wikia is a free-to-use site that makes money from advertising. We have a modified experience for viewers using ad blockers

Wikia is not accessible if you've made further modifications. Remove the custom ad blocker rule(s) and the page will load as expected.