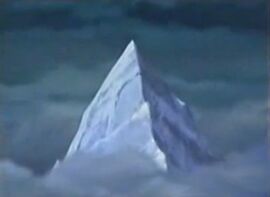 Mt. Kairus is a prominent mountain in the Brillia region, capped in snow. In the anime series, it turns out to be the place where Moo's ancient, dragon-like body has been frozen for hundreds of years. He sends his team on an expedition to retrieve it, and Pixie and Big Blue spy on them.
Kairus is the tallest mountain on the Northern Continent, part of the Papas Alps.
Ad blocker interference detected!
Wikia is a free-to-use site that makes money from advertising. We have a modified experience for viewers using ad blockers

Wikia is not accessible if you've made further modifications. Remove the custom ad blocker rule(s) and the page will load as expected.