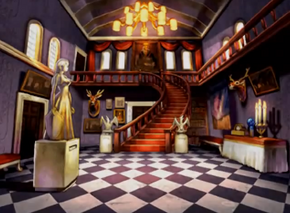 Nelson
, the true leader of the
Blue Wolves
battle card
team, gains most of his power and influence through his family's wealth. Because his large family mansion lies in the forest between
Marsh City
and the
Parepare Jungle
, it is assumed that they own a great deal of property, as well as the beautiful building.
Naturally, Nelson's large home has become the meeting place for the Blue Wolves team, and thus an important stop in your journey to collect as many cards as possible in Monster Rancher Battle Card 2. The beautiful mansion bears a resemblance to one of the ranch locations offered in My Monster Rancher.
Ad blocker interference detected!
Wikia is a free-to-use site that makes money from advertising. We have a modified experience for viewers using ad blockers

Wikia is not accessible if you've made further modifications. Remove the custom ad blocker rule(s) and the page will load as expected.