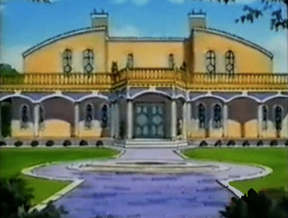 One of
Poritoka's
five summer homes is located right on the edge of the city of
Torble
, on a large plot of land surrounded by water.
The Searchers
accidentally stumble upon it in
Episode 70
, and then realize they are not welcome. It has large, golden
Suezo
statues everywhere, even one in the fountain. A bridge connects it to the rest of the city, and the grounds are surrounded by woods that obscure it from passersby.
The inside has large halls with beautiful, purple carpet and golden columns. Portraits of Poritoka's relatives hang on the walls, and when Suezo sneaks inside, he sees that Poritoka also has his own fighting ring set up in a room adorned with posters of himself.
Ad blocker interference detected!
Wikia is a free-to-use site that makes money from advertising. We have a modified experience for viewers using ad blockers

Wikia is not accessible if you've made further modifications. Remove the custom ad blocker rule(s) and the page will load as expected.