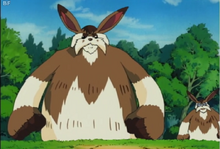 This is about the anime characters. For the monster itself, see Wondar.
The Wondar Brothers are a pair of monsters that are Mocchi's competitors for the Legend Cup in the anime series. The older one is much smaller and is known for his high intelligence, while the younger one is much larger and known for his brute strength.
Originally they are tempted to become baddies, but end up helping the Searchers instead.
Techniques
Edit
Ad blocker interference detected!
Wikia is a free-to-use site that makes money from advertising. We have a modified experience for viewers using ad blockers

Wikia is not accessible if you've made further modifications. Remove the custom ad blocker rule(s) and the page will load as expected.